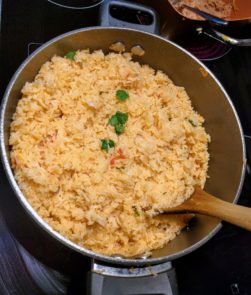 Ingredients:
2 medium vine-ripened tomatoes or 4 Roma tomatoes cored and quartered
1 onion peeled and quartered
1/3 cup vegetable oil
2 cups long-grain
4 cloves garlic minced
1/2 green pepper (or 2 jalapeno seeded)
2 cups low-sodium chicken broth(or vegetable broth)
1 tablespoon tomato paste
Salt and freshly ground black pepper (to taste)
½ cup fresh cilantro or parsley minced
Juice of half a lime, or lemon.
Directions:
In blender/food processor blend tomatoes onion, garlic, and green pepper, until it's the consistency of thin salsa ( Set aside)

Heat oil in medium sized pot over medium. When oil is hot, add tomato paste and puree into the oil. Sauté for one minute.

Rinse rice well, until water runs clear.

Add rice to the pot, evenly coating with the puree and oil.

Add broth, salt and pepper. (I use a 1 tsp of salt and ¼ tsp of pepper).

When the broth has almost evaporated, about 1/2 inch above the rice (and about 10min). Cover with tightly, fitting lid, and cook over low temperature for 25 minutes.

When rice is cooked, remove from heat and stir in the lime juice, cilantro.
And this is the perfect rice to go along with my Chicken Enchiladas.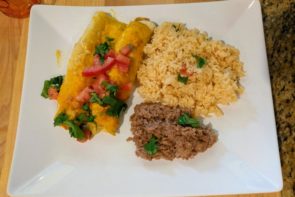 Jenn