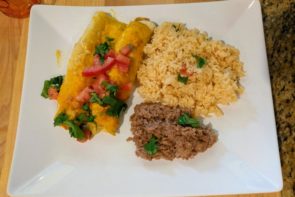 5 chicken breasts (not split)
1/2 of a chicken bouillion cube
15  small flour tortillas
2  cups mild cheddar cheese
Ingredients for the cream sauce:
1 can cream of chicken condensed soup
1/2 pack of taco seasoning
Season chicken breast with paprika, cumin, and garlic powder.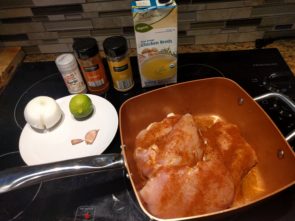 In a medium size pot, bring chicken broth to a boil. 
Add seasoned chicken breast, minced garlic, juice of 1 lime, chopped onion and bouillon to the pot.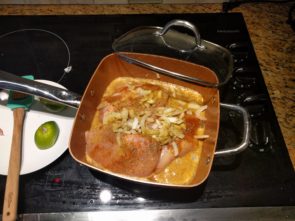 Cover, and turn down to simmer for 1 hour.
When chicken is cooked, use a knife and fork to 
shred.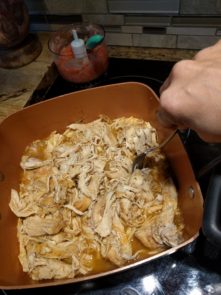 So if you are wondering where the pictures to the next couple of steps are, it was too difficult to nurse my daughter, cook, and take pics all at the same time…. Sorry!!
Add 1/3 cup of the shredded chicken to the center of each tortilla, roll and place "seem down"  in a lightly greased, 13×9 (or larger) casserole dish. Repeat, until you've lined the bottom of your casserole dish and have run out of chicken :). (It's OK if they overlap a bit.)
In a small bowl, mix cream of chicken, sour cream, and taco seasoning.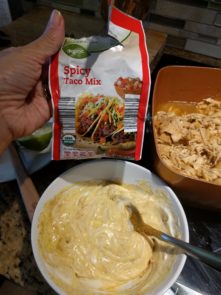 Spread evenly over your rolled and filled tortillas.
Bake in the oven for 20 min, or until the cheese has melted.
Garnish with chopped tomatoes and cilantro (optional)