I'm not sure this is a "healthy recipe", but it's so good and easy you'll forget about those extra calories.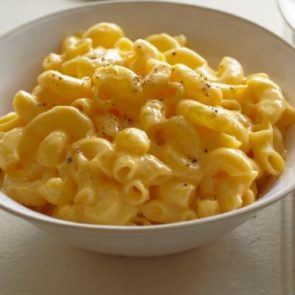 Ingredients
1 box macaroni
1 can Campbell's Cheddar Cheese Soup
2 cups shredded, mild cheddar cheese
1/2 cup milk 
4 tbs butter 
1/4 tsp pepper
1/2 tsp brown mustard
Cook macaroni according to package instructions. Drain pasta and return to the pot (do not rinse pasta). Add Campbell's soup, cheddar cheese, milk, butter pepper and mustard. Mix well, cover, and cook over med/low heat for 5 min, or until the cheese and butter is melted.
My mac and cheese enthusiast!