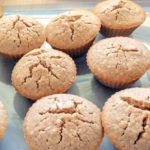 Magic Muffins
It was around the holidays when a friend happened to pop in one morning–freshly baked chocolate chip cookies were cooling on racks in my kitchen. I insisted she have some, and although she declined in the beginning... It wasn't long before that heavenly scent kicked her will-power to the curb. She loved the cookies, and while we were chatting she admitted to not being much of a baker. "Can you just not add the chocolate and make this a sugar cookie?" She asked.. I explained the reasons why there were different ingredients in the cookies– how the brown sugar wouldn't allow the sugar cookie to keep it's signature, buttery color. Each recipe contains different ingredients to achieve the perfect cookie 🙂 .
But this conversation got me thinking... Wouldn't it be nice to have a batter, any batter, that would allow you to just add-on goodies? By simply switching chocolate chips with peanut butter it would yield you a completely different outcome in taste– without having to change the science of your ingredients.
I'm thrilled to be able to share my Magic Muffin recipe!! It's exactly what it sounds like... A magic batter you can add your own twist to, depending on your mood, and without messing it up!!!
Really, this recipe has been in my kitchen for years. I'm not quite sure where it originated as it called for regular milk –which I changed to coconut– and loads of butter–which I also changed to about half of what I used to use. I've eyeballed the sugar for quite some time now, but last night I went the extra mile and used measuring cups and spoons to bring this recipe to life for you all.
So here we go....
Ingredients
1

cup

coconut milk

warmed

1/2

cup

butter

melted

1

egg

large

1

tsp

vanilla extract

2

cup

all purpose flour

2 1/2

tsp

Baking powder

1/2

tsp

salt

1/2

cup

sugar
Final ingredient– What kind of Muffin are you in the mood for??? Peanut butter–add 1/2 cup of peanut butter. Cinnamon–add 1 1/2 tsp cinnamon. (This is the Muffin in the picture, and the laziest version) Blueberries- add 1cup fresh or frozen. Banana– add 1 banana cut into small 1' pieces. Apples– add 1 Apple chopped into small pieces (cinnamon Apple is one of my favorite versions).
Instructions
Preheat your oven to 375.

Mix your first four ingredients in medium size bowl. Add flour, baking powder, salt, and sugar. Mix batter well.

Pour batter into (prepared) muffin cups, and bake for 23 minutes.

That's it!!! One bowl, one batter, and many possibilities.



Recipe Notes
Do not over mix your batter– I use a fork to mix and get all of the flour bubbles out, and I use a spatula to scrape the sides and to incorporate my final ingredient.
Over mixing will give you a drier muffin, and these are super moist!! 
Enjoy!!
Jenn