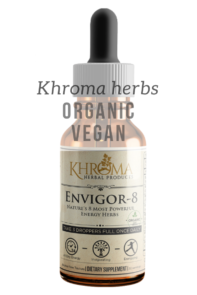 As a momma to six, I'm always in search of the next best, organic supplement to boost my energy. And I'm no stranger to the commercial drinks that make you feel jittery  energized within minutes of consumption, only to make you ready for a nap a few hours later. Besides experiencing "crash and burn", the chemicals and amount of sugar in those energy drinks aren't anything short of poison to your body.
I recently discovered Khroma Herbs, a full line of homeopathic supplements. They are organic, chemical-free, and vegan!!!! Khroma Herbs Envigor 8 is a great way to get energized without worrying about the ingredients, since they're all natural.
Within a couple of days, I noticed the boost. I loved that it didn't make me feel caffeinated and shaky. Instead, the steady release of energy allowed me to remain active and, more importantly, productive!
They also have a line for children, Little Warriors Immune Booster, that I'll be trying next. I'm a fan of the ingredients the entire line contains. Organic elderberry, licorice root, and ginger… Just to name a few.
Khroma Herbs is the new addition to our wellness cabinet…
 **Disclosure: I received products in order to conduct my review. All opinions are 100% mine